Aesthetics and Laser Clinic
Southwest Institute of Natural Aesthetics operates a Student Day Spa serving the public six days a week. All work is performed by students under the supervision of a Licensed Aesthetician and instructor. Due to our volume of clientele and our designation as a skincare educational institute, SWINA's Student Spa is able to offer unmatchable prices on our entire menu of Day Spa services, including Laser treatments! Come experience what we have to offer. Relax & Enjoy.
Monday
1PM - 9:30PM
Tuesday
8:30AM - 9:30PM
Wednesday
8:30AM - 5PM
Thursday
8:30AM - 9:30PM
Friday-Saturday
8:30AM - 5PM
Scheduling an Appointment
We encourage guests to schedule their appointments in advance. Same day reservations and walk-in appointments are always welcome, based on availability. All reservations must be secured with a major credit card.
Cancellation Policy
Please respect the spa's scheduling by keeping your reserved appointment. We understand that you may need to cancel or reschedule your appointment. Please make sure that you provide a minimum of 24 hours notice when canceling or rescheduling appointments.
Your services are guaranteed reservations, 50% payment is required for the following conditions
Less than 24 hours notification to cancel or reschedule appointments
No-show or missed appointments
Late arrivals
Please keep in mind that arriving late for a service may require the spa to shorten the length of the treatment, with full charges applied. This is to not inconvenience other guests, who have scheduled appointments.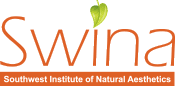 Southwest Institute of Natural Aesthetics
1460 E. Southern Ave. Tempe, AZ 85282
BeASkincareSpecialist.com – (480) 393-1415
Are you ready to do Big things in the world?
We will never sell or share your information with anyone.
I hereby give my express consent for Southwest Institute of Healing Arts to contact me by phone, email, mail, and/or text message.
Your Shopping Cart is Empty