Our Success Center is SWIHA's Entrepreneurial and Placement Division's dedication to the success of students and graduates of Southwest Institute of Healing Arts, SWIHA Online, Southwest Institute of Natural Aesthetics and Spirit Of Yoga.
Southwest Institute of Healing Arts is a school for Holistic Healthcare Training, so we take a holistic approach to fully supporting our students' and graduates' careers. We provide our graduates with the tools and support the self-confidence to take the leap into the professional world or entrepreneurship. This unique approach has multiple integrated pieces anchored firmly in the cornerstone divisions of Placement Resources and Entrepreneurial Resources. These departments are combined into an entity we proudly call Our Success Center.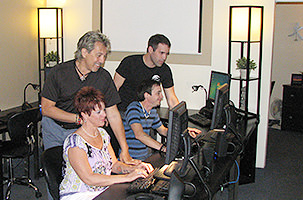 As our students make their way along the road to success, we guide them towards the idea of not simply placement, but of self-empowerment to place themselves.
Lifelong Placement Assistance
Lifelong placement assistance is an important part of Our Success Center. As our students make their way along the road to success, we guide them towards the idea of not simply placement, but of self-empowerment to place themselves. We coach them towards solidly walking their own individualized career path—one that will eventually lead them to enjoying their job so much that they do not feel they are working, but living the life of their dreams. Ultimately, the last leg of the journey is their own, but the many tools we offer guide them on their way to finding the confidence and knowledge that they can and will succeed.
"Choose a job you love, and you will never have to work a day in your life." – Confucius
"Don't Wait Till You Graduate"
Initially, all new students have an orientation to Our Success Center and are introduced to our "Don't Wait 'Till You Graduate" strategy. This encourages students to think about their post-graduation placement throughout their classes and program. Students speak to the Campus Placement Coordinator up to 5 times during their program. To get our students and graduates 'job ready', SWIHA and SWINA build business and résumé classes into our programs. These unique classes are immensely successful in getting the wheels turning for students to proceed into working in the business world.
Further Assistance
To begin, the placement team and the graduate together analyze where the student currently is or plans to be when they graduate. We determine the direction they want to take in the modality they study and what they see themselves successfully doing. Perhaps they will become a Massage Therapist, Holistic Nutritionist, Life Coach, Yoga Teacher, Natural Aesthetics Practitioner, Laser Technician, Transformational Hypnotherapist or they may be combining two or more of these or other lucrative modalities into a comprehensive Holistic Wellness Practice.
The placement team and the graduate together analyze where the student currently is or plans to be when they graduate.
Once they have clarity on their career path, we assess and plan for fulfilling their tangible needs. Some may need to create their résumé from scratch or review it for improvement; which we immediately set up a time to do. Some may need entrepreneurial support such as managing the paperwork for creating a business. Some students may need coaching to overcome fear of going out on their own. We offer coaching as many times as the graduate needs to get past whatever obstacles they may have. For others we may recommend a class to further help them prepare themselves to enter the workforce.
Upon graduating, each student receives at least 1 one-on-one meeting with the placement coordinator to go over résumé design and content, professional image during an interview and what they can expect during in the job interview process.
All graduates are given a current list of job leads, along with a packet of sample marketing materials. Graduates seeking employment receive a weekly job lead posting online or by mail. In our extensive exit interview we make sure that all grads get as much information as possible and fully know the resources that are available to them.
Placement Division

Résumé Building and/or Résumé Review
Personal guidance with marketing materials and website building
In-person and Social Networking Events
Entrepreneurial Workshops
Insurance and Licensing Information and Updates
Life, Business and Success Coaching
Opportunities to promote their services by offering a raffle gift for events
Info on room rentals for massage therapy and other modalities
Lifetime Ongoing Support
Entrepreneurial Division

Entrepreneurial Coaching
On-Campus Business Center
101+ Online Resources to Grow Your Business
Webinars & Workshops
Documents for Business Start-Up
Marketing Assistance
Our Entrepreneurial and Placement Coaches are here to support our Graduates.
Overcome Small Hurdles
While our high placement figures support our continuing commitment to guiding our graduates to employment or self-employment, we are about more than just post-graduation placement. We assist our students and grads with managing and overcoming small hurdles which leads them to take the larger leaps to realizing their goals. Achieving these immediate results helps graduates feel at ease and encourages the self-confidence that supports their lifetime success. Importantly, we assure that they know that at any time they can call the placement department for answers to any questions with regard to their schooling, placement, career or if they just need help finding insight to what they are doing.
Several student computer stations are available in the Success Center for students to work on résumés, web sites, business networking and other career communications. Graduates are always welcome to come in and set up a personal one-on-one session with the campus Placement Coordinator and the Entrepreneurial Division Team.
Our online students and grads are 100% equally supported with all of the Success Center resources. All of the information and resources are solidly in place via phone or web based applications such as Skype or Google+.
The bottom line is that we stand by our commitment to our graduates and their lifetime placement benefit to help them secure their own success and be on the road to loving their jobs so much, they feel they are never working another day in their lives!
Are you ready to do Big things in the world?
We will never sell or share your information with anyone.
I hereby give my express consent for Southwest Institute of Healing Arts to contact me by phone, email, mail, and/or text message.
Your Shopping Cart is Empty