Art with Heart is a dynamic program sponsored by Southwest Institute of Healing Arts, a conscious college community, which spotlights local Arizona artists. Held at our campus in Tempe, Arizona, a new showcase is held every three months. With over 20 local artists displaying more than 80 pieces of their work, there is something to appeal to everyone. Each artist is allowed five to seven pieces of art, which we will place on the walls around SWIHA!
Whether an artist, or simply an enthusiast, Art with Heart is sure to inspire and captivate you. If any work of art speaks specifically to your tastes, you can support the local art scene by purchasing it. While all entries share some aspect of the theme, Art with Heart, particularly emphasizes the metaphysical and contains techniques and mediums that are as diverse as the artists themselves!
Gain Exposure
Thousands of people pass through our school monthly. Beyond our considerable class offerings, we hold many large events to invite the local community into our family each month. Our Gifts and Graces sessions, held the first Friday of every month, attract hundreds of first time visitors. All our events and classes bring many people to our college and in turn, they get a chance to see the art on our walls. In addition to increased sales, exposure is a valuable asset for our artists. We also feature our program on several of our websites for additional exposure.
Are you looking for a new venue for your work? Do you know someone whose work deserves more publicity? Are you looking for the first showing of your own art? Art with Heart and SWIHA might provide the perfect setting!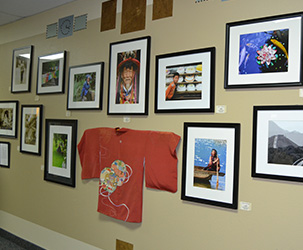 See For Yourself
We invite you to tour our college at 1538 E. Southern Ave. Tempe, AZ 85282 to see the current show. Your visit will provide a clear sense of the opportunity and whether it is the right venue for you! If you have any questions, or would like additional information, please call (480) 944-9244 ext. 154 or email barbm@swiha.edu