By Reading Your Toes, The Story Will Unfold…
It has been documented that everything that happens in your life, the story and the emotions, are stored as cell memory. There is more going on in the world, and specifically YOUR world, than meets the eye. It may just be your toes that reveal the most!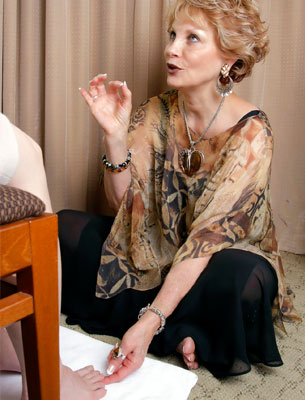 Are You Ready to Become A Toe Reader?
This powerful modality is really Soul Coaching; thus, you are actually a "Soul Coach", as a toe reader! Teaching people to 'hold' sacred space' and truly appreciate the path they have walked is one of the most powerful things you can do in this world. As a Toe Reader and Soul Coach, you commit to being in the world to help others do the same. When you give yourself permission and you realize your value, others will too! The Soul Speaks – listen to it!
KC Miller, founder of Southwest Institute of Healing Arts (SWIHA) in Tempe, Arizona is the Master Toe Reader behind Soul Speak™, a powerful technology for healing the past and learning how to step powerfully into one's own destiny. Beautiful transformations will often be witnessed right before your eyes as a Toe Reader.
The art of Toe Reading is on the rise, as it is being learned and practiced worldwide! SWIHA has trained hundreds of people in this intuitive coaching technique both through On Campus Toe Reading Classes and Online Toe Reading Classes! Toe Readers are flourishing in the U.S. as well as in Japan. At present, there are 14 Toe Reading teachers in Japan. An overseas, Spirit-guided mission to Japan, led by KC herself, is nothing short of a miracle. This was a huge shift for the people of Japan, as the power of Toe Reading helped heal those in need!
See the power of becoming a Toe Reader!
As a Soul Coach you will be Restoring Hope by Honoring People's Past Experiences.
Discover the fascinating Elements of the toes
Use this influential modality to serve others to the fullest
NOTE: Except for our Clinical Hypnotherapy Certificate, our certificates of excellence are not designed to serve as stand-alone vocational training and will not prepare you for gainful employment if taken independently of a diploma or degree program.