December Gifts and Graces: Answer the Call
December 1 @ 6:00 pm

-

7:00 pm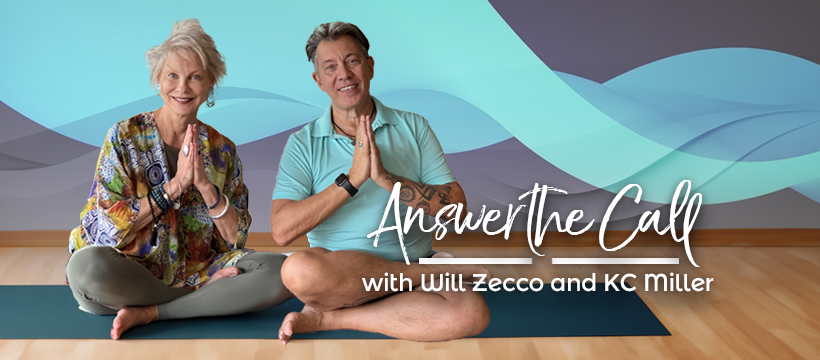 "The Divine does not necessarily call the qualified; the called are qualified by their willingness!"
Have you ever felt an inner knowing that you were to do something, yet you just couldn't quite put your finger on what that something was? Or, have you ever known what you were called to do, yet question why you were called, or if you were really qualified to answer the call?
You are not alone! Many people experience an inner itch or urge to step up to a higher calling, yet find themselves questioning! Will Zecco and KC Miller have experienced this exact thing, and have figured out how to step beyond confusion or the "imposter syndrome." Join them for Gifts and Graces as they share five very specific steps for getting out of your own way, how to tune into what's really true for you and the prayer to use for continued, on-going guidance. There will be song, laughter and affirmations, along with a Reiki blessing!
PS – If you are a Reiki Practitioner, please join us to offer the guest of Gifts and Graces a blessing of prosperity and protection.
Will Zecco has answered many calls in his life, from hairdresser to Singer to Director of Yoga Student Services; Will has felt the fear and questioned his calling. On each step of reinventing himself, there has been a lesson in building resiliency, developing emotional intelligence and self-awareness, and cultivating a growth mindset to get beyond adversity and stress.
KC Miller was a farmer's daughter, with a bad case of dyslexia growing up, who started her career selling grain bins in northern Colorado. There was nothing that technically qualified her to start a nationally accredited college that became approved by the US Department of education, yet she was willing! She firmly that 'there is a plan' for every soul here on earth, there are no extra souls, and that we will be shown the way when we listen with our heart.
After Gifts and Graces, come and experience a mini energy session from one of our practitioners or vendors. Toe Reading, Reiki, Tarot Reading, Polarity, Coaching and more will be available. Gratuities are suggested.
**This is a complimentary in-person and FB Live event**
RSVP to Attend in Person at rsvp@swiha.edu
Join us on Facebook Live the day of the event