Gifts & Graces: Tap into the Power of Intention & Prosperity Consciousness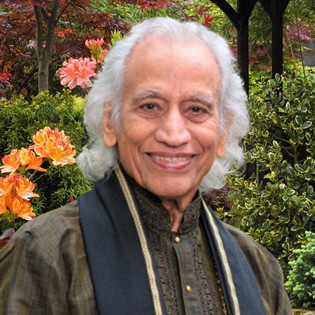 Did you know that stress is the root cause of over 80% of health-related illnesses? Learn from revered Yogi Amrit Desai how to release the chronic stress that hijacks your creative life force and how meditation-based I AM Yoga and Yoga Nidra can interrupt the disease process on mental and emotional levels. You will also learn about the most current biological, psychological, and spiritual applications of the ancient teachings of Patanjali's 8-limbed Yoga (Ashtanga Yoga). Tap into the extraordinary self-healing power and spiritual potential of your own intuition and prosperity consciousness!
Since 1960, Gurudev Shri Amritji (Yogi Amrit Desai) has been repeatedly honored for being the first yoga guru to bring the practice of the inner dimension of Patanjali's Ashtanga Yoga to the West.
The yoga that Gurudev developed is taught by over 10,000 yoga teachers in more than 45 countries. Today, he calls it IAM Yoga (Integrative Amrit Method). I AM Yoga provides in-depth healing as well as the therapeutic and transformative benefits of authentic yoga that have been missing in many popular approaches to the practice of Hatha yoga.
For his outstanding contributions to the global yoga community, Gurudev has been recognized by the world-renowned authorities and organizations with many prestigious accolades, including the titles "International Grand Yoga Master," "Doctor of Yoga," "Maharishi," "Jagadacharya (World Yoga Master)" and many more. He has been awarded the "Global Service Award," "The Patanjali Award," and the "Vishwa Yoga Ratna" presented by the President of India. In 1992, he was nominated for the "Padma Vibhushan" by the late Prime Minister of India Shri Chandra Shekhar. A globally revered spiritual leader, Gurudev Shri Amritji has reached millions through his international trainings, workshops, seminars, and conferences as well as his peace missions to Russia and Israel. For more information visit www.amrityoga.org
In addition Life Coaches, Toe Readers and Reiki Practitioners will be available to serve you.
Can't attend in person? This event will also be streamed on Facebook Live!
Complimentary Event
Please RSVP to rsvp@swiha.edu | 480-994-9244
Event Location
Southwest Institute of Healing Arts (SWIHA)
1538 E. Southern Ave.
Tempe, AZ 85282
Event Fees:
Complimentary
Registration is closed for this event.
For more information or questions, please email:
rsvp@swiha.edu