Random Acts of Kindness – Gifts and Graces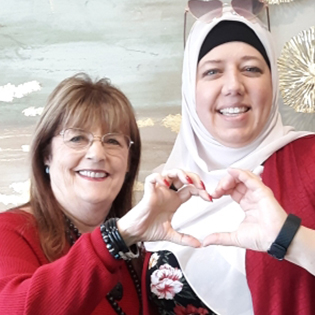 Random Acts of Kindness – Gifts and Graces

Friday, February 7 from 6pm – 7:30pm
Simple acts and the small words can have the largest impact. Are you ready to make a difference in the world? Join Linda Bennett and Tara Ijai for an evening of Love and Kindness.
Linda Bennett is Senior Curriculum Specialist and the Hypnotherapy Program Director for the On Campus and Online Hypnotherapy Programs at Southwest Institute of Healing Arts. She is a Certified Clinical Hypnotherapist, Board Certified Hypnotherapy Instructor and Certifying Examiner as well as a Certified Life Coach with more than 25 years of experience in the field of Higher Education Development and Corporate Training. Linda's passion is making learning a comprehensive and fun experience that is engaging to all students, whatever their learning style.
Tara Ijai lives in Phoenix, Arizona with her husband and two teenage boys and is the founding of love rebel at Love Glasses Revolution. You will find her sporting her heart shaped sunglasses and incessantly advocating for love, reminding herself and others that there is always a choice how to show up. Tara believes love is an action word and that means getting involved and helping to lift your community and considers herself a love activist.
"Love and kindness are never wasted. They always make a difference. They bless the one who receives them, and they bless you, the giver." – Barbara De Angelis
In addition Life Coaches, Toe Readers, Intuitive Readers, Sound Healers and Energy Practitioners will be available to serve you.
Can't attend in person? This event will also be streamed on Facebook Live!
Please RSVP at rsvp@swiha.edu
Event Location
Southwest Institute of Healing Arts
1538 E. Southern Ave
Tempe, AZ 85282
Event Fees:
Complimentary
Registration is closed for this event.
For more information or questions, please email:
rsvp@swiha.edu