Vedic Storytelling – The Essence of the Bhagavad Gita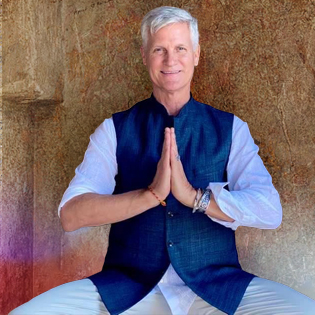 RSVP required: rsvp@swiha.edu so we can get a number of attendees, we have limited space due to COVID, for details call 480-994-9244
NOTE: This event will be broadcast via Facebook LIVE.
Join Devarshi Steven Hartman, a longtime yoga teacher and inspiring storyteller, as he makes the Gita come alive and reveals how it is applicable to your modern life. This month's presentation will be an experiential dialogue about one of the greatest pieces of spiritual literature on the planet and the quintessential text on yoga – the Bhagavad Gita. This ancient poem, which is a conversation between Krishna (God) and Arjuna (the spiritual warrior) will come alive.
Devarshi Steven Hartman has been a yoga student and teacher for over 40 years., and is the founder of Pranotthan Yoga School, former dean of the Kripalu School of Yoga and former Director of Professional Trainings at Kripalu Center for Yoga and Health. Devarshi lives in Palm Springs, CA, leads yoga teacher trainings, workshops and retreats around the country and maintains a private practice in Life Coaching and healing Bodywork. Devarshi is currently committed to making a difference in the lives of men and works in the realm of recovery and trauma Monte Recovery Center in Desert Hot Springs, CA.
Devarshi is also the creator of two best-selling audio series The Essence of the Bhagavad Gita, and Satori – Simple Secrets to Inner Peace produced by Nightingale-Conant. One of his favorite quotes from the CD courses he has developed is: "All yoga practices are designed to lead one to an experience of being infinite, eternal, and whole. The mind cannot get there, so at some point you must leap off the 'mind experience' into another realm!"
The intention for the June Gifts and Graces is for you to experience this "other realm" using the power of breath and visualization. Come ready to raise the roof on your prana and have your body vibrating with powerful healing energy and oxygen, releasing emotional stagnation and reducing the effects of stress and tension, culminating in the deepest Savasana you have ever encountered. You will discover why you "gotta getta Gita!"
Event Location
Southwest Institute of Healing Arts
1538 E. Southern Ave
Tempe, AZ 85282
Event Fees:
Complimentary
Registration is closed for this event.
For more information or questions, please email:
rsvp@swiha.edu