Gifts & Graces: Mindset - The Unstoppable Force
Join Mother and Son, Quentin McCain and E. Marie Hall at our July Gifts and Graces dedicated to #BlackLivesMatter: Listen – Lean In – Learn
Mindset: The Unstoppable Force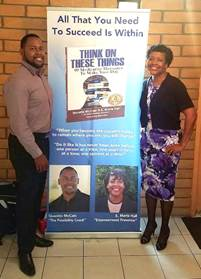 Quentin McCain is a Master Mindset Coach, International Speaker, and the coauthor of "Think On These Things", an Amazon #1 Best Seller. Quentin knows what it takes to unlock the mind and build outrageous confidence. Utilizing his personal experience and the proven principles of Neuro Linguistic Programming taught by business masters such as Tony Robbins. As a coach, Quentin shows his clients how to reprogram their thinking and self-talk to re-engage their mission, renew passion for life, and reinvigorate innovation to achieve greater success.
E. Marie Hall has worked with high level professionals for over 30 years. In addition to Mindset Mastery Success personal and business Coaching, she provides group coaching to professionals looking to overcome obstacles and up-level their success. Marie is also bestselling Author and an award winning speaker who has spoken on stages around the world. Limited on campus seating & Facebook Live.
NOTE: This event will be broadcast via Facebook LIVE and limited seating at our location. ** Guest are required to wear face covering as they enter SWIHA. Please rsvp at rsvp@swiha.edu
Event Location
Southwest Institute of Healing Arts
1538 E. Southern Ave
Tempe, AZ 85282
Event Fees:
Complimentary
Registration is closed for this event.
For more information or questions, please email:
rsvp@swiha.edu