New Year's Gifts and Graces Exploring Postures of Consciousness with Kamini Desai & KC Miller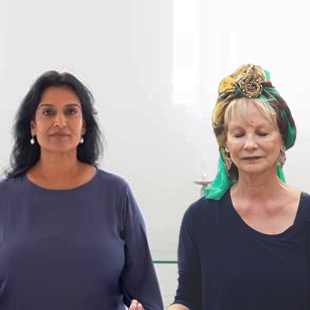 What happens when we posture our life to be more conscious? Making things happen (Deliberate Conscious Action) vs. Letting things happen (Surrender) is the for peace and sanity, especially as we enter 2021.
Joining us virtually from Ireland, Kamini Desai, Executive Director of the Amrit Yoga Institute, and holder of the Amrit Linage, will field questions from SWIHA's Founder, KC Miller.
"Making it happen" and "letting it happen" are two wings of the being that empower us to take flight into limitless sky of consciousness. Just as a bird's wings fulfill the single function of flying, we can integrate the corresponding forces of deliberate action of doing and surrender into being, so that we have the potential to soar to unfathomable heights of consciousness and peace of mind.
Inner guidance is not pre-learned. Action guided from within takes us on the pathless path of ego-less action where all questions are directed by the prompting of prana rather than the ego-mind. Kamini and KC will offer a felt-sense experience using Yoga Nidra and Yin Inquiry.
Complimentary Event
NOTE: This event will be broadcast via Facebook LIVE There is limited seating at our campus.
** Guest are required to wear face covering as they enter SWIHA.
Please rsvp at rsvp@swiha.edu
Event Location
Southwest Institute of Healing Arts
1538 E. Southern Ave
Tempe, AZ 85282
Event Fees:
Complimentary
Registration is closed for this event.
For more information or questions, please email:
rsvp@swiha.edu