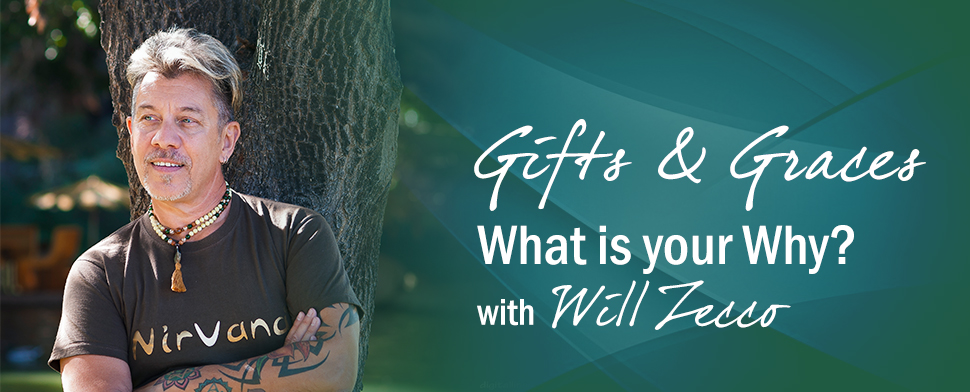 Gifts & Graces: What is Your Why?
What is Your Why?
from 6pm - 7:30pm
Featuring: Will Zecco
"The two most important days of your life are the day
you are born and the day you find your why" ~ Mark Twain
This is a question you most likely have asked yourself or someone has asked of you at some point in your life.
However, have you taken the time to clearly define your WHY?
Your WHY is your purpose. It is your reason for getting up in the morning. It is what motivates you to action. It is what keeps you focused each and every day. No one has the power to take your purpose from you.
The clearer you are about your WHY the more others can share your purpose. Aligning shared passions, shared beliefs, and shared value is how one finds common purpose. Purposeful leaders leverage common purpose to inspire, unify, and drive collective action to achieve their goals and desired outcomes. Purpose-driven brands find the common purpose across organizational stakeholders, their customers, and society to achieve business sustainability and to have a positive impact in the world.
Every individual has a purpose. While you may not have been able to identify your purpose just yet, it does not mean it does not exist. If you are constantly stressed, demotivated, unfulfilled at work, pessimistic of the world, or feel your life lacks meaning then these are clear indicators that you are not living your purpose.
Join Will Zecco for and inspirational and up lifting message to Discover Your WHY. Will has served at SWIHA for the last twelve years -- He is an inspirational motivational speaker, business coach, yoga teacher, breath coach, Gong Master and humble servant of Spirit.
At 7:30pm complimentary sessions offered are:
Life Coaching, Toe Reading and Energy Therapies.
Complimentary Event
Event Location
Southwest Institute of Healing Arts
1100 E. Apsche Blvd.
Tempe, AZ 85281
Event Fees:
Complimentary

Registration is closed for this event.
For more information or questions, please email:
rsvp@swiha.edu