Certificate of Excellence in Special Touch
Deepen your gift of healing as you learn to specialize in the techniques of massage with a 'special touch' that serve populations of massage clients requiring a light pressure massage. Emphasis is placed on the therapeutic and relaxation values as well as the necessary specialization of the medical needs of these clients.
Special Touch can be taken as part of the massage therapy diploma programs or as a part of the Associates of Occupational Studies in Holistic Healthcare. Students who complete this program receive a Certificate of Excellence in Special Touch.
---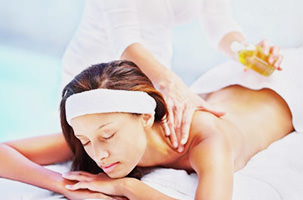 Benefits of Special Touch
This massage specialization is designed to combine the physical, emotional and spiritual healing of clients such as those who are pregnant or elderly, or clients with fibromyalgia, arthritis, nerve and muscle damage or other conditions.
NOTE: Except for our Clinical Hypnotherapy Certificate, our certificates of excellence are not designed to serve as stand-alone vocational training and will not prepare you for gainful employment if taken independently of a diploma or degree program.
---
Special Touch Classes
Aromatherapy
We bring together the science of aromatherapy with the physical and spiritual benefits of Therapeutic Touch. This introductory course trains students to work with the body's energy field and enhance healing by skillfully incorporating essential oils into treatment.
Baby Touch
Massage Therapists and Doulas learn how to teach caregivers to massage their own babies. Study infant protocol, including age appropriate variations and teaching others, role-playing, and actual hands-on experience with mothers and infants. Bring a life-sized baby doll to learn and practice with. Parents with infants are invited to classes Saturday and Sunday afternoons.
Breast Health
Learn therapeutic techniques for enhancing women's breast health, including release of pectoral muscles, working with breast implants, mastectomy rehab, scar tissue softening, breast flushing and effective self-breast exam. Study the latest information about what enhances or diminishes breast health – environmentally, physically, emotionally, and spiritually. Bring two sheets, lotion, bolster, two small towels.
Elder Touch
Learn how to work responsibly with elderly clients and patients. Explore specific massage contraindications in depth. Students study safe and effective protocols to work with the elderly, those with chronic illness or in frail condition.
Fibromyalgia Therapy
Study the pathology and pain of this syndrome in depth. Learn the trigger points involved with fibromyalgia and how meridian therapy can create significant relief. Lymphatic body brushing is included in this therapy.
Lymphatic Massage
Lymphatic drainage massage promotes balance of the body's internal chemistry, purifies and regenerates tissues, helps normalize organ function and improves the immune system. Bring two sheets and one pillowcase.
Mother Touch
Students learn to give pregnant clients a safe, gentle, highly effective Therapeutic Massage. Study how pregnancy changes the body, when Pregnancy Massage is appropriate or contraindicated. Includes techniques for producing muscle relaxation while gently stimulating blood circulation, lymphatic drainage and endocrine system balance. Please contact instructor for a supplies list.
Mother Touch - Advanced
Learn to meet more of the pregnant client's expanding needs. The curriculum includes aromatherapy safe for pregnancy, guided imagery and visualization for optimum maternal and fetal well-being, pre-birth parenting and fetal awareness, charting, labor massage techniques, and postpartum renewal. Invite a pregnant friend to join you for the last 2 hours of class.
Reiki I - Traditional
Reiki is a widely known form of energy therapy, considered a holistic system for healing, balancing and personal growth. As practitioners align with the ancient healer within them, they learn to use 'Universal Life Energy' for healing and relaxing themselves and others, developing higher consciousness, and fulfilling their spiritual purpose.
---
Explore Special Touch
Are you interested in Special Touch, but not sure about signing up for the full 100-hour program? At SWIHA, we are so committed to helping you achieve your dream, we invite you to take a test drive and sit in on the first 4 hours of any introductory class before you decide whether to enroll. Get a first-hand feel for what SWIHA is all about!
Tuition Assistance
SWIHA is a nationally-accredited college approved by the United States Department of Education. Students enrolled in programs of 600 hours or more may qualify for Federal Student Aid in the form of Pell grants and student loans.Title IV Financial Aid is available to those who qualify.
SWIHA offers a 10% concession on tuition for Certificates of Excellence that are paid with cash in-full at the time of enrollment **
* Application fees, books, materials, and supplies to be paid for separately and not included in the concession toward the total cost of tuition.
** Not to be combined with any other offer or scholarship.
Are you ready to do Big things in the world?
We will never sell or share your information with anyone.
I hereby give my express consent for Southwest Institute of Healing Arts to contact me by phone, email, mail, and/or text message.
Are you ready to do Big things in the world?
We will never sell or share your information with anyone.
I hereby give my express consent for Southwest Institute of Healing Arts to contact me by phone, email, mail, and/or text message.
Your Shopping Cart is Empty