The Health and Wellness Coaching certificate is for individuals who are motivated to lead healthier lives, be centered in their wellness, and inspire others to do the same.
Health and Wellness Coach
On Campus and Online – Certificate of Excellence – 200 hour – Tuition
Start Dates
Online
January 9, 2023
On Campus
January 20, 2023
What do Health & Wellness Coaches do?
Provide individuals with the support and guidance they need to make long-term behavior changes that improve their health.
Work with clients and medical professionals to develop personalized plans, which can include making dietary changes, increasing physical activity, and managing stress.
Health & Wellness Coaches may also have their own private practice, facilitating one-on-one, group, or virtual sessions, incorporating various modalities to tailor sessions to their client's unique needs and goals for their wellness.
They can also work in many different places, such as hospitals, fitness centers, public health organizations, major corporations, nonprofit agencies, and training centers.
Their ultimate purpose is to assist their clients in setting and achieving goals related to improving their health and well-being.
In this program, you will learn:
Foundations of Wellness Coaching

This Foundation course focuses on developing the coach-client relationship necessary for client-centered wellness coaching.

Professional Wellness Coaching & Ethics

Explore the stages of change and the ethics of health & wellness coaching. You'll practice coaching clients with tools for setting goals and tracking behavior change.

Anatomy of Wellness

Apply the stages of change for client-directed behavior changes that are recommended by public health initiatives such as smoking cessation, moderating alcohol consumption, healthy nutrition, and exercise.

Health Conditions

Apply the stages of change for physician-directed behavior changes. These lifestyle behavior changes are prescribed to help manage the symptoms of diagnoses such as diabetes, metabolic syndrome, cardiovascular disease, hypertension, cancer, immune conditions, and arthritis.

Advanced Wellness Coaching 1

Apply the coaching skills you've previously learned to coach groups of several people. You'll examine the group mindset, process, and motivation. You'll practice establishing trust and relationships within the group, conducting activities, creating group accountability without shame, listening, and holding space for difficult conversations.

Advanced Wellness Coaching 2

In this health and wellness coaching course, you'll synthesize several coaching concepts and take them to an advanced level through practice.

NBHWC Exam Prep

Dig into the requirements for the NBHWC credentialing exam. While preparing for the NBHWC Exam you will also harness their GRIT for test-taking.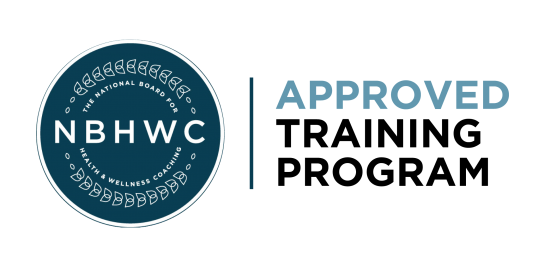 Why Become a National Board Certified Health & Wellness Coach?
The credential "National Board Certified Health & Wellness Coach" or NBC-HWC is quickly becoming the indicator for practitioners with comprehensive training.
Our program aligns with the standards of the National Board for Health and Wellness Coaching (NBHWC) and prepares graduates to work with clients to support self-directed and person-centered changes that promote a sense of ownership and lasting change.
NOTE: Certificates of Excellence are areas of concentration designed to take as CEU's or to be taken within a diploma or degree program; they will not prepare you for gainful employment if taken independently. Only vocational programs of 600 hours or more are eligible for Federal Financial Aid.