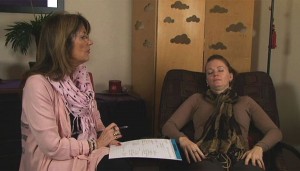 If you have never experienced hypnotherapy and are curious about trying it in for no charge and no obligation, come try it at our Hypnotherapy Specialty Clinic.
As part of the comprehensive education we offer, our students get valuable hands-on training in the various Specialty Clinics that are open to the public. Hypnotherapy is one of these holistic healing modalities scheduled at specific times at Southwest Institute of Healing Arts. Sessions generally last one hour and the Hypnotherapy Clinic is completely complimentary.
Individual Hypnotherapy Sessions
The Hypnotherapy clinic is a capstone experience, preparing students to begin the practice of Hypnotherapy. Students hypnotize volunteer clients working with them individually, goals such as deep relaxation, stress and anxiety reduction, easing fears and phobias, weight management, or smoking cessation. All sessions are done under the supervision of an instructor.
View the current hypnotherapy clinic.
Group Hypnotherapy Sessions
Clients are invited to participate in a supervised group therapy clinic focusing on advanced techniques. These may include weight loss and smoking abatement, pain management and stress reduction. The format is a practicum where students work with clients in a clinical group setting.
Schedule to be announced. Please check back for information!
Book Your Appointment
Please Call (480) 634-5968 specialtyclinics@swiha.edu to book your appointment at our Hypnotherapy Specialty Clinic.
Please have ready:
Which Clinic
First and second choice for the time and date of your session
First and last name
Phone number
Come visit Southwest Institute of Healing Arts
Come visit Southwest Institute of Healing Arts And as always, you are welcome to schedule a tour and explore our relaxed, friendly college campus and community healing center.